Sports Management and Athletic Recruiting!
The AAA classification currently includes two affiliated leagues: the International League and the Pacific Coast League. For most of the 20th century, it also contained the American Association, but that league disbanded in 1997. The Mexican League is also classed a Triple-A league, though its clubs do not have Player Development Contracts (PDCs) with Major League clubs.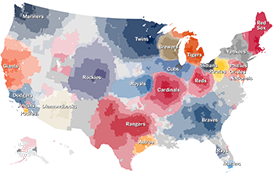 Both young players and veterans play for Triple-A teams. Teams usually hold many of the remaining 15 players of the 40-man major league roster whom the major league club has chosen not to play at the major league level. Players at Triple-A on the 40-man roster can be invited to come up to the major league club once the major league roster expands on September 1, although teams usually wait until their affiliates' playoff runs are over, should they qualify.
For teams in contention for a pennant, it gives them fresh players. Those that are not in contention, it gives them an opportunity to evaluate their second-tier players against major league competition.
NOTE: Mexican League clubs are unaffiliated with major league clubs, but the league is officially classed at the AAA level.
Top