Sports Management and Athletic Recruiting!
There are currently three leagues in the AA classification. Eastern League, Southern League, and the Texas League. Some players jump to the majors from this level, as many of the top prospects are put here to play against each other rather than against minor and major league veterans in Triple-A. A small handful of players might be placed here to start, usually veterans from foreign leagues with more experience in professional baseball. The expectation is usually that these players will be in the majors by the end of the season, as their salaries tend to be higher than those of most prospects.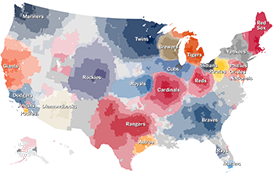 Unlike the major league and the Triple-A level, two of the three Double-A leagues have their season divided into two parts, the Eastern League being the exception. One team may clinch a spot in the playoffs by winning the division in first half of the season. The teams' records are then cleared and another team will also clinch a playoff slot during the second half. Wild cards are used to fill out the remaining teams. Usually, four teams qualify for the league playoffs.
Top