Sports Management and Athletic Recruiting!
Low-A is a classification comprising two sub-classifications: Low-A-Advanced and Low-A. Players usually have less experience or have particular issues to work out; pitching control and batting consistency are the two most frequent reasons for a player to be assigned to Low-A baseball. It can also be used for the early stages of a rehab assignment.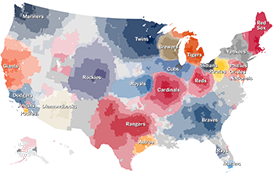 Low-A-Advanced One level below Double-A, the California League, Florida State League, and the Carolina League play at the Low-A-Advanced level. This is often a second or third promotion for a minor league player, although a few high first-round draftees, particularly those with college experience, begin at this level.
These leagues play a complete season like AAA and AA, April through early September. Many of these teams, especially in the Florida State League, are owned by major league parent clubs and use their spring training complexes. The class consists of 30 teams from around the U.S, from San Jose to Tampa. The full list of teams can be found on the MiLB website.
Slightly below Low-A-Advanced are the full season Class-A leagues, the South Atlantic League and Midwest League. These leagues are a mix of players moving up from the Short-Season A and Rookie leagues, as well as the occasional experienced first-year player. These leagues play a full, 140 game schedule, which runs from the first week of April through the first week of September.
Top