Sports Management and Athletic Recruiting!
Evaluations, videos and third-party information are vital to your Bird Dog Scout ® profile and to the college coach. You do not want to waste a coach's time with an incomplete profile. Athletes should keep in mind that coaches are interested in what a recruit can do academically and on the field. You will make a better impression by demonstrating baseball skills, rather creating a video that has dramatic music, special effects and quick-cut editing.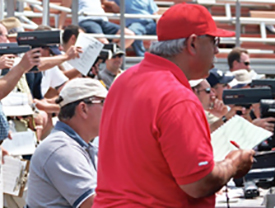 Evaluations are not normally handed out after camps, but there are a few that will still critique on a one to five scale, three being the average high school player. In baseball and softball, there is no difference between a recruiting video and skills video. Unlike other sports where a recruiting video is a compilation of your best plays from actual games, coaches want to see specific shots from practice to evaluate your mechanics. Game footage does not allow the camera to film in the right place to give coaches the views they want to see.
A skills video should show the athlete to their best advantage and grab the coach's attention. Players should use a tripod with the camera about five feet off the ground, if possible. Unsteady video is difficult to watch, and many coaches will simply move on to the next player video rather than suffer through film that is not stable and steady. Coaches want to see an athlete's skills at their position on video such as mechanics, speed, athleticism and power.
Also, do not film behind a fence or backstop; the camera view should never be obstructed and always warm up before the filming starts. A uniform is a must with a cap, look the part and dress how you would during a game, except for your jersey, a baseball undershirt is preferred (tucked-in to your baseball pants) … please, no shorts! Always leave coaches wanting to see more. Players should keep their videos to one minute or less for hitting, catching, bullpens and infield/outfield; put best skills at the beginning of the video.
As a member of Bird Dog Scout ®, we will help you through this process!
Our Network
hover to view!
Top