Sports Management and Athletic Recruiting!
Low-A-Short Season, despite sharing the "Low-A" designation, is, in fact, a separate classification from Low-A. Short Season A teams are slightly more limited than Low-A teams with respect to player age and years of experience in professional baseball. As the name implies, these leagues play a shortened season (roughly 75 games), starting in mid-June and ending in early September, with only a few off-days during the season.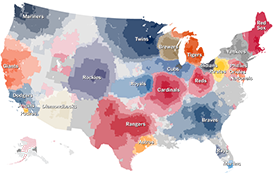 There are two short-season leagues, the New York–Penn League and Northwest League. They contain the highest level short-season affiliates for 22 MLB organizations. The affiliates of the remaining eight MLB clubs have their highest level short-season affiliate in either the Appalachian or Pioneer Leagues, which are officially classified as "Rookie" level leagues.
The late start of the season is designed to allow college players to complete their college seasons in the spring, then be drafted, signed, and immediately placed in a competitive league (The MLB First Year Player Draft begins on the first Monday in June).
Players in Short Season leagues are a mixture of newly signed draftees and second-year pros that weren't ready to move on, or for whom there was not space at a higher level to move up. Second-year pros tend to be assigned to Extended Spring Training in Florida or Arizona during April and May before reporting to their short-season leagues.
For many players, this is the first time they have ever used wooden baseball bats, as aluminum bats are most common in the amateur game. Players are permitted to use certain approved composite bats at this classification to help them make the transition from aluminum to wood bats. This is also often the first time they have played every day for a prolonged basis, as amateur competitions typically regulate the number of games played in a week.
Top