Sports Management and Athletic Recruiting!
Leagues in the Rookie classification play a shortened season, similar to (but slightly shorter than) the Class-A Short-Season leagues, starting in mid-June and ending in late August or early September. This lowest level of minor league baseball consists of four domestic leagues, the Appalachian League, Pioneer Baseball League, Arizona League, and Gulf Coast League, as well as two foreign-based leagues, the Dominican Summer League, and Venezuelan Summer League.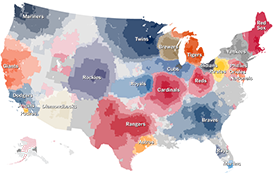 The four domestic Rookie leagues are divided into two subgroups. The Gulf Coast and Arizona leagues are classified as Rookie leagues, while the Appalachian and Pioneer leagues are known as "Advanced Rookie" leagues. Rookie leagues play a 60-game schedule, and are usually called "complex leagues" because most games are played at their parent clubs' minor-league complexes.
These leagues are intended almost exclusively to allow players to hone their skills. No admission is charged and no concessions are sold. Advanced Rookie leagues play between 67 and 75 games with fewer days off. The players in these leagues are thought to be further along in their development than players in the pure Rookie leagues, and hence games are slightly more competitive. Teams in these leagues sell concessions and charge admission.
The Appalachian and Pioneer leagues are actually hybrid leagues; while officially classed as "Rookie" leagues; eight major league teams have their highest-class short season teams in those leagues. These eight teams also maintain Rookie-level teams in other leagues as well.
Top